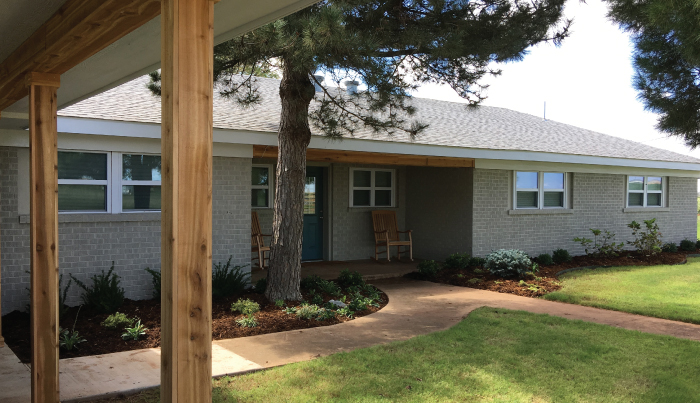 31 Jan

Westview Team Completes the Restoration Project

As Westview moves into a new year, the young men and the Westview team celebrate a campus of restored beauty.

The vision of this project was "to restore our residences on campus to a like-new condition while returning other key buildings to full function." As a consequence, this project became known on campus as the "Restoration Project." By funding our grant requests, generous friends of our young men (who wish to remain anonymous) have restored our six residences, the ranch manager's home, and key campus buildings. They accomplished this for less money than it would have taken to build one new home.

Ron Bruner, executive director, observed that "Terry Owens, our campus manager, has accomplished a Herculean task by getting so much done so well and so affordably.
Meeting objectives
Not only has the Restoration Project met its original objectives, it has in some ways exceeded the original goal of restoration of these buildings to their initial usefulness; most are now more useful, more cost effective to operate, and more aesthetically attractive than they were originally.
Aesthetic improvements are among the most obvious benefits. Westview's houses have gone from being plain, semi-institutional looking homes to being attractive homes consistent with a contemporary aesthetic. Professional landscaping has already improved the front elevations of our homes, and we expect that these views will become even more attractive as these plantings mature.
Improved safety at the ranch is a significant factor. The installation of new smoke and fire detection equipment has significantly improved protection for our residents. Complete inspection of existing electrical systems has improved confidence in on-campus fire and electrical safety. Addition of sprinkler systems around each home has created a greenbelt around each structure which improves their ability to withstand grass fires.
Operational improvements will empower use of operational funding for other uses. Updated structures require fewer repairs that drain Westview's time and fiscal resources. Improved electrical systems lower utility bills. Installation of new insulation will also, over time, reduce costs.

Positive outcomes
The Restoration Project has profoundly affected those who live at Westview. Our young men have been pleased to see how their houses have gradually become homes that they are proud to live in and care for. The investment in this work has encouraged caregivers to see how seriously friends of the Home take their work. Finally, our neighbors in Harmon County have been delighted to see Westview deepen its roots in southwestern Oklahoma and to understand how this work makes this part of the world a more beautiful place to live.